We use Moog (pronounced "mogue" like "vogue".) Nothing beats the warm, full sound of a bona fide analog synthesizer. We love Moog's powerful sound sculpting capabilities.
Featured Moog Studio Gear
Custom Little Phatty - Stage II

Outfitted with the control voltage out modification, including gate (O to +5V), pitch (1 volt per octave), volume envelope (0 to 5 volts), filter envelope (O to 5 volts), and mod bus (variable) outputs. It also has some aesthetic customizations: a custom Pokemon Red Edition Moog backplate, red LEDs, and pitch and mod wheels that blink in time with the LFO rate.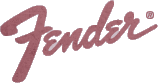 We love Fender electric guitars becuase of the deep soul turning sounds they can belt out; with strong, beautiful tone from dark lows to glassy highs. They are some of the best sounding hand-crafted guitars around.
Featured Fender Studio Gear
American Special Series Stratocaster HSS

Rocking an alder body, maple neck with 9.5"-radius fingerboard and jumbo frets, and vintage-style synchronized tremolo.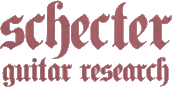 With absolutely solid construction and handsome presentation, we love Schecter guitars. They're beautiful in both the looks and sound department; perfect for the studio and the stage.
Featured Schecter Studio Gear
No featured gear at the present. Check in later.

Try as you might, you can't fake the true crunchy bleep-bloop of a soundchip circa 1989. We use "pro-sound" modded DMG-01s (original Nintendo Game Boys) in conjunction with LSDJ to get the authenitc chip sound.
Featured Game Boy Studio Gear
Pro-Sound DMG-01 Quartet
Each DMG has been equipped with the pro-sound modification. This mod adds a 3.5mm line-level-out jack, and boosts the sound output in volume and dynamics while reducing background noise. LSDJ can then be used to control the chip's sound, and sync systems via MIDI (with the proper external devices).

Nothing beats genuine 8-bit sound and graphics! We've found there's no better way to jam than with the system that heated up the console wars in 1988 - the Nintendo Entertainmnet System!
Featured NES Studio Gear
Custom Clear NES

Rebuilt from the ground up - this custom clear shell NES is an 8-bit music factory. Coupled with a MIDINES cartrige, it is essentially a lo-fi syntheziser that can be manipulated via any MIDI controller. It also adds to the visual aspect, as it's graphics glitch in time with the music.
Other Gear
We don't limit ourselves to only select brands or hardware - any artist that joins us in our studio may bring along their instrument. Below is other gear and software used in our studio. Some have become permanent studio fixtures.